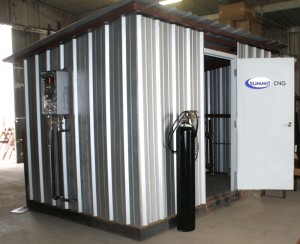 The Pressure Reduction Skid has a 8′ X 12′ foot print with a secure metal locking door insuring authorized access to the digital controls. The skid has interior lighting and a clear trip free work area. The base of the skid has fork lift points providing quick placement on location and fast start-up.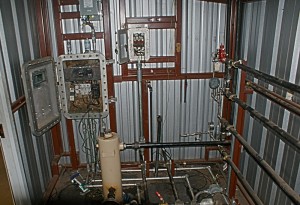 The Pressure Reduction Skid is totally automated. Once the technician sets the customers specified delivery pressure and temperature the digital controls automatically adjust the final delivery gas temperature by controlling the amount of Re-heat given to the flowing gas. The skid can be constructed with 240 or 480 Volt 3 Phase power. The electric power is required to provide explosion proof re-heat of the gas.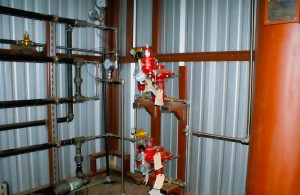 The pressure reduction control valves are designed to provide the customer with gas flow rates that span the transports initial delivery pressures up to 4,000 PSI and provide the same controlled flow rates down to 80 PSI. The large brown pressure tank on the right prevents fuel starvation that might be expected in a throttle-up by providing 10 to 15 seconds of fuel instantaneously while the control valves open. The same surge tank will allow quick reduction if gas flow rates and engine fuel demands drop during idle preventing a release of gas while the control valves close.